I'm a little late to the party, but I already did now and then some research on the ragdoll tool. It is sometimes difficult to continue for hours after work in my spare time, especially when the weather is so lovely and hot

See here an introduction video. During my runnings, I always get the best ideas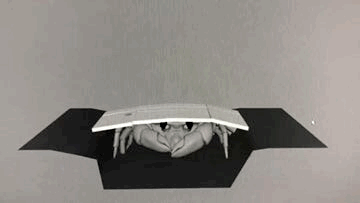 Here's my first ragdoll test. I tried to make the crab come out of the ground with blocks that were then made dynamic.

I want to give it a big godzilla feeling, so I give it a slow-motion feeling with a time remapping on the recorded simulation.

The next step is to watch some more tutorials to get a better grip on the tool. For now, I mainly used the pin to animate the legs and body. I want to see if I can push the performance further, perhaps by animating more pins or other tricks that I can figure out by watching more tutorials.
And maybe in the end I might put a mouth on the crab so I can make it roar!
I finally did another test. This time with a scattered environment. The big trick for breaking the environment with some hold was to switch from kinematic to dynamic. I thought it would blend but turns out to be an off or on switch. I am still happy with the result. As an extra I also gave the arms pins to animate with.