Heya,
I was just wondering what the best practice would be to setup a shot like this. I am currently animating a personal shot which involves a 1st person rig , driving in a car down an environment. Instead of hand keying a lot of noise on the car global controller and having a motion path, I thought it would be a fun experiment to start learning ragdoll.
However I have run into a few problems with IK arms / legs and constraints. I have got the environment into maya and set it up as a ragdoll environment. If I make some basic geometry and let it drop from a height it now interacts with it.
I have assigned a marker to the global car control and just animated it linearly moving forward in a test scene. I set that marker to Kinematic. I then pinned the seat to that marker and made it dynamic. The seat moves successfully along with the car. I started trying to add markers for my First person rig and I managed to get the Hips pinned to the seat . I then pinned the wheel to seat and that all seems to work
The problem comes when I try to setup a character especially IK arms and legs and Distance constrain them to my wheel I get this weird breaking of the markers on the arms and also the constraint doesn't hold (it most probably is me being stupid).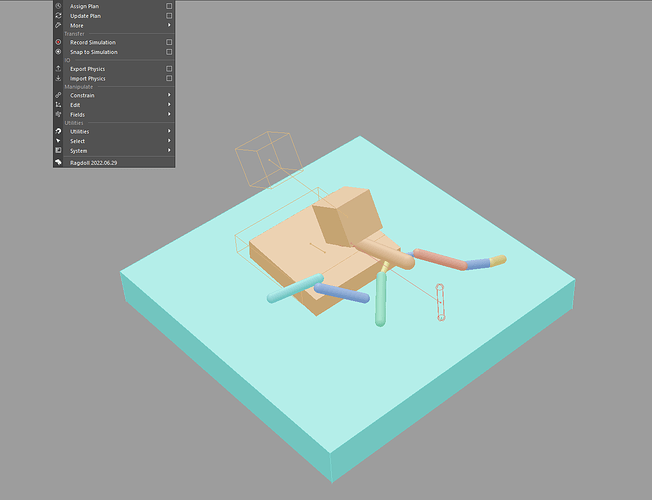 I have seen the documentation on setting up markers but wondered if there was a video better explaining it for example how the markers were setup for the pirate rig as it looks like a 1to1 copy of the mesh. I have also run into other problems with this for example if I was trying to simulate a hit reaction or something hitting a character rig I have had a lot of issues with that rig break - the head translating to far or the chest etc. I am 99% sure it is because I am going about setting up markers in the wrong way.
My last question is also about best practice for setting up a simple ragdoll for a rope sim - if i want something to dangle from the wing mirror for example . I have a joint in the wing mirror I wondered if I need to rig something further and skin it or if I can do it in a simpler way.
Sorry for the long post and probably daft questions and if more information is needed happy to provide